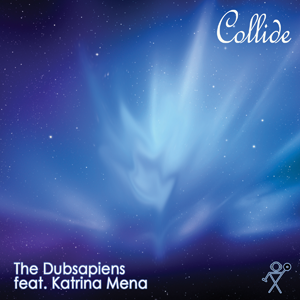 The latest single from The Dubsapiens featuring Katrina Mena is out NOW!
"Collide" is a collaboration and journey into uncharted territory for The Dubsapiens and Katrina Mena.
Katrina, who is the resident vocalist "diva" for Dynamix Records, has had success with her signature vocal style that is mostly reserved
for House music. Her rich vocals exude love, joy, spirituality and sensuality. Her music touches the soul and uplifts the spirits.
The Dubsapiens style of dirty, bass heavy, funky, grinding Drum and Bass has been the staple of their sound for nearly 7 years.
"Collide" brings together the melding of styles from the artists and the "collision" becomes a moving, driving, energetic, passionate piece.
"This was simply a liquid tune that we (DJ JM, Kincaide, and I) had hung on to for a few years and it needed a special touch. Katrina, came by the studio one day and we played it for her.
She immediately picked it up and you could tell she was grooving along to it. She took the track and within a couple of days had the lyrics for it. She came over to the studio,and sang a few lyrics.
Jeff and I were blown away and we knew we needed to get her in to record. Within a few days, she came over recorded a few takes and it was done. After a few edits we sent it over to The Renegades for mastering.
It was incredible! She is wonderfully talented and we are thankful and honored to have worked with her on this track. We are glad to be part of the Dynamix family together!"-Solfunkshun
"Collide" explores the passion and range of beautiful emotions that two people feel when they are deeply in love. Its passionate and sexy, yet you can definitely dance to it at the same time.
The remixes of the track were done by The Renegades and Ian Stewart, also from Dynamix Records. The Renegades' remix is cleverly dubbed as an "80's Future Trap Fantasy" version of the tune. A little trap, a little footwork, a whole lot of soul. The Ian Stewart remix is a nice sexy smooth rendition. Elements of chill, triphop, downtempo and r+b influences are all over this version.
So, if you want to make your nights with your special someone a little steamier and fun, then grab this tune and "Collide!"